Contact centre edition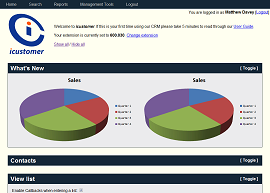 The contact centre module meets the changing needs of companies and service providers that operate inbound and outbound sales and customer management facilities. It is comprised of a number of parts.
Campaign Management
Empowers end users to create sales prospecting lists, defining these by a series of powerful query building tools. No IT support is required in order to create the majority of lists.
Prospect targeting tools: iCustomer can search your prospect data base via user defined parameters based on any data field that has been captured in a prospect or customer record.
Sales and service scripting: iCustomer allows each campaign and activity to be completely scripted. This is particularly important for contact centres. However, it is becoming almost as important across organisations generally. It ensures that what all employees are saying to customers at all levels is factually and tonally consistent. The larger the organisations, particularly those that are represented in a wide spread of geographies, the harder this level of consistency is to maintain. This feature also has an important role to play in the induction and training of new staff, making them more productive faster. A company no longer needs to hire the best sales people iCustomer turns the average sales person into your best sales person.
Reduce sales administration costs by reducing the need for companies to employee staff. Increase accuracy and cut out the need of duplication of leads and sales orders
Empower inbound staff to become sales people rather than enquiry and order takers.
Flexible data capture options: iCustomer allows for the capture of data in user defined free text or pre-configured formats. The powerful data mining tools (see below) make it possible for keyword searches to be conducted along with traditional data mining approaches to ensure that this data can be meaningfully recalled.
Integrated Voice Dictation: Integrated voice dictation system establishes a voice file and attaches it automatically to the prospect/ customer record. The voice file can remain stored in the record, be opened and transcribed by a typist into the prospect or customer history or be sent to a voice recognition software package which will then convert the text.
Data mining and analysis
iCustomer has a powerful data mining capability that allows for the creation of highly targeted sales call lists, as well as providing the basis for a very comprehensive reporting capability for operational and senior management across the organisation.
Integrated Document Archiving and Communication System (DACS) Document Repository
The Integrated DACS capability will allow the users to store and link all documents to a prospect or customer's file. These documents can be viewed from the prospect or customer file. Some document types (text, PDF) are even able to be searched, and can be included for consideration in data mining exercises.
Prospect and Customer Demographics
The system keeps a single prospect or customer record that shows the entire sales and service interaction history along with the associated documentation all accessible from one screen. The system also provides an integrated bar-coding capability for tracking associated documentation and easy administration.
In addition, iCustomer can link the details for one or more corporate entities to any prospect or customer record
Data verification edition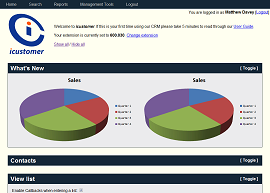 The verification of data is an important process for sales, customer retention, lead generation and often legal reasons. Bad data can be costly, and iCustomer can help you fix current data that is inaccurate or out-of-date, as well as prevent similar problems happening in the future.
iCustomer has a powerful data cleaning and formatting module that allows data to be extracted in a variety of formats from legacy systems. It creates the type of high quality data that is the basis for successful sales prospecting. Good quality prospecting data is a cornerstone of successful programs and ensures that investment in sales resources are maximised.
Good quality data is also important for testing and eliminating costly duplication within contact databases, and ensuring that all the data in a database is up-to-date and accurate. iCustomer helps with integrated contact data validation systems, drawing on heuristic pattern matching, as well as publicly available databases and web services.
Since sometimes technology isn't as good as human "common sense", so iCustomer's advanced workflowing capability allows a verification team to check and approve suspect records before they're allowed to progress to the next stage of the workflow.
Management edition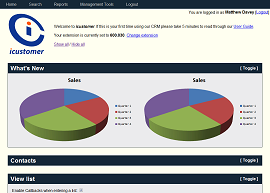 The Management Module delivers the user a raft of administrative, management reporting and communications functionality.
Billing and accounts
iCustomer's architecture provides a multi level interface to a variety of accounting packages that include MYOB, Quick Books, ACC PAC, Great Plains and NAVISION.
iCustomer also has an open interface ands so can be connected to most payment gateways currently operating in the Australian market. This feature can be configured to work with international payment gateways as well.
Security
Comprehensive security via a sophisticated user profiling capability. This allows the administrator to restrict access to all or parts of the system by assigning a unique access profile to each user. Access usernames and passwords can be automatically set for expiry at any time and the user profiles also modified regularly as the need arises.
The system has a complete audit trail capability which shows a history of the prospect or customer record and all users who have accessed it by detailing their username with a timestamp of when it was accessed.
All external communications are encrypted via the most advanced standard available.
Multiple interface methods
iCustomer is able to communicate with users through multiple channels. While all of its functionality is exposed through the web interface, many procedures can be accessed through other media. iCustomer is able to read and understand instructions given through email, SMS, and through a sophisticated, user-centered interactive voice response system on a traditional landline or mobile phone.
For example, if a prospect needs to reply to an email in order to agree to a service, iCustomer can read and understand the email, link it back to a customer, link the email to the record, and alert the salesperson that they need to look at the record and approve it to continue. If the salesperson is on the road when that happens, they could be alerted via an automatic SMS, delivered from iCustomer. They could reply to the SMS with a command, or ring up iCustomer's phone system and use the voice prompts to approve the record and take care of any other business they might need to look at.
Prospect and customer communications
The integrated email capability allows the sending of messages to both other users on the system, and externally, potentially alleviating the need for third party email products. iCustomer has the capability to "peek" at external email accounts, and scan email for keywords. When it encounters a word that it thinks it can do something with, it takes a copy of the email (leaving a copy on the mail server for the salesperson to read), and imports it into the system. Once it's in the system, iCustomer finds a record to attach the message to, optionally flagging it for the salesperson, or performing some other task.
Faxes work in a similar way. Any fax sent to iCustomer's fax numbers will attempt to be understood by the system, linked to a record, and flagged for a salesperson. iCustomer can also send faxes in response to user requests. Sent faxes are stored in the record and are available for review at any time.
Remote real time access
Due to the fact it's a web-based application, there is no difference to the interface that is used in the office, at home, or on the road through a web-enabled handheld device (phone or PDA). The architecture of the system will allow a user to access the system on-line completely from the office, the car, customer location or from home with the appropriate communication.
All customer information along with any documentation and images can be viewed and edited in real time. This will eliminate the need for hard copy storage and move the user toward a true paperless environment. It is a truly multi-site solution without the need for expensive additional networking software.
For more detailed technical specifications, an information summary is available upon request.
Management reporting
The system has a comprehensive management reporting capability to assist in strategic and operational management. There are a number of existing standard reports including sales productivity, job costing and quotations. In addition to those already referred to, for more advanced reports, the system can interface to Crystal Report Writer.
The system can output any level of account detail to MS Excel so that it can be loaded back to MYOB or Quicken. Alternatively, for higher level accounting systems, a specific export routine can be written to perform whatever of data export you require. The architecture of iCustomer means this can be done quickly and cost effectively.